Since launched on May 1, 1993, the Rahula Media Unit has marked many milestones along its proud journey so far. Rahula Media Unit, the cradle of future communicators, is the birthplace of the talented in the fullest sense of the word; A place where gifted veterans build up; Creator of the great. The Rahula Media Unit is ready to continue to write the school genealogy in golden letters, overcoming various challenges successfully and gaining victories
Updating the school community on important occasions such as school events through the daily news bulletin.
Helping to develop the knowledge of the school students by implementing programmes for each day of the week.
Improving the communication skills of students.
Providing necessary technical assistance for the events organized by the school.
Organizing media day competitions.
Organizing the Inter-School Media Day Competition, Voice '18 in 2018 to develop the skills of school journalists.
Organizing the Inter-School Quiz Competition "Rahal Damnada '21" in 2021 in collaboration with the College Buddhist Association to coincide with the Poson Full Moon Poya Day.
First Place in the Sports Commentary Category at Sihas Sankathana '21 organized by Ranabima Royal College, Kandy in 2021 – Saviru Weerasiri
First Place in "Wild Eye '21" Inter-School Photography Competition organized by Royal College, Colombo in 2021- Pavith Malaka
First place in the Wildlife Photography Category at the "Vidasa '21" Inter-School Photography Competition organized by Anula Vidyalaya, Nugegoda in 2021 – Pavith Malaka
4th Place in "Eunoia" Inter-School Public Speaking Competition organized by Visakha Vidyalaya, Colombo in 2020 – Manji Liyanarachchi
The Board of Executives for the years 2021/2022 under the guidance of the teachers in charge of the Media Unit, Mr. Suranga Rathnayake and Mr. Upul Siriwardhana are as follows:
Malindu Thathsara Bandara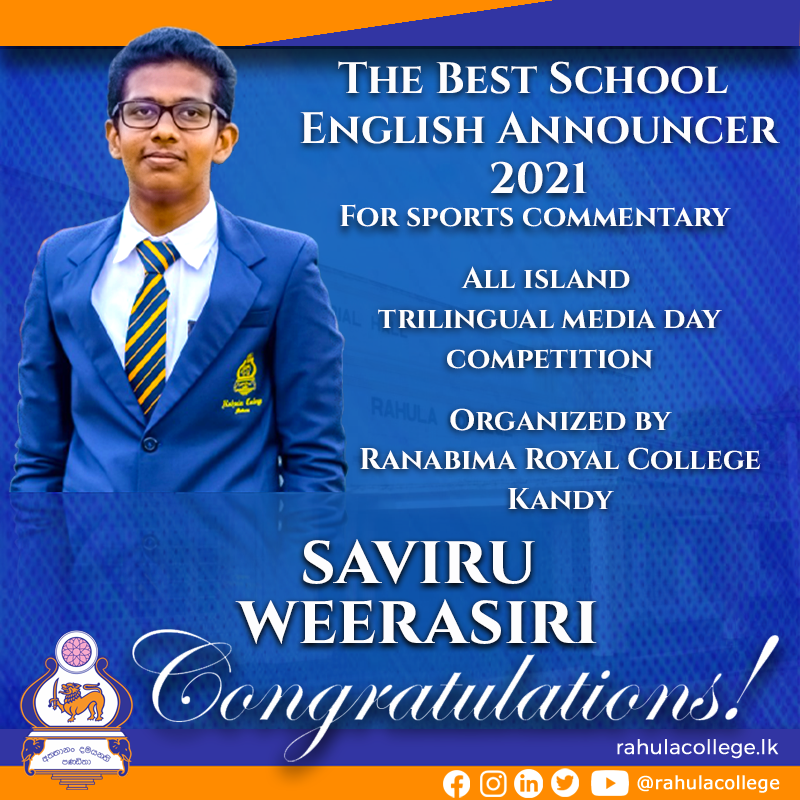 Saviru Weerasiri All Island Trilingual Media Day Competition Organized by Ranabima Royal College – Kandy
Read more